DigiPrizm, a Digital Marketing Consultancy arm of the parent firm Xubrenz Inc. , was formed in the year 2018 with the vision to transform small and medium enterprises and help them speed up to the world.  With the emergence of digital technology, its now essential for entities to navigate newer business models to drive tangible outcomes. Organisations require tailored solutions to fit to their unique needs and challenges to sustain and grow in this dynamically competitive business environment.
DigiPrizm, a.k.a Digital Prism offers spectrum of customised Digital Marketing solutions ranging from Search Engine Optimisation, Social Media Marketing, Pay Per Click and Web Hosting Services. We are one of the leading Digital Marketing Consultants providing cutting edge global services which help you transform and revolutionise your business style. We practice a very simple work philosophy 1. Aspire to grow 2. Adapt the smarter ways to reach your goals 3. Amplify your business.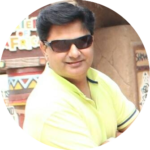 Abhay, is a Google and Facebook Certified Digital Marketer and brings in two decades of rich experience and expertise in Sales & Marketing, Product Management and Customer Life Cycle Management across diversified Industries. He is a qualified Industrial Engineer and holds Post Graduation in Business Management.
He has successfully spearheaded several Strategic Marketing Programs, New Product Launches, Business Excellence and Transformation Projects across esteemed organisations such as Daikin, HCL, Vodafone and Tata Tele.
His entrepreneur journey kick started in 2018 with the startup Xubrenz Inc. launching its flagship brands viz DigiPrizm - a Digital Marketing Consultancy and Xubrenz - a Vibrant Affiliate Market place. This was soon followed by addition of Style 'n Vibes - an Online Shopping Brand to the Xubrenz Inc. family in 2019.
Year 2020 has started on high note with launch of DigiPrizm eLabs – An online training and education initiative having wide range of eBooks and Tools Mastery on Basic and Advance concepts of Digital Marketing.
"He is the visionary and has been the key pillar in framing out the Strategic Business Plans. His technical expertise brings in new perspective and innovation to our approach.
"
She brings in lot of energy to the entire team.
Her
insightful directions backed with
decades of industry experience is critical in defining Digital Marketing milestones."
"He brings on board extensive global experience in implementing Japanese planning techniques. His operational guidance ensures successful and timely delivery of Projects."